There are many components and parts that go into making up your underground sprinkler irrigation system. While some of these parts can be easily replaced or repaired by most any home owner, there are some that are best left to a trained professional sprinkler repair technician.
While most of the components of your sprinkler system will last practically forever, there are other parts that will require checking on a yearly basis for wear and tear or simple failure. One of these parts of your sprinkler system that should be checked annually to assure its optimum performance is the backflow preventer. While your backflow preventer will generally continue to perform as it should there is one rather inexpensive part of your backflow preventer that is designed to fail as it protects the more expensive components from damage. That part is commonly know as the bonnet and poppet. The bonnet and poppet is a small plastic piece with a rubber "o" ring. This part of your backflow preventer is a very essential component of your entire sprinkler system as it prevents bacteria laden water from seeping back into the water you will use for drinking and other daily water use. If the seal of this part does not fit properly, contamination to your home water supply can occur. Obviously this can be potentially very hazardous to your good health. You should generally expect to replace this part of your sprinkler system every two to three years.
In cold weather climates where freezing occurs, it is extremely important that your sprinkler system be professionally blown out and the entire system drained of water that can and will freeze. One of the first parts or a sprinkler system to freeze is the backflow preventer. When this happens the bonnet and poppet portion of your backflow preventer is very likely to freeze and to crack as frozen water expands. This part is intentionally designed in this manner to provide overall protection and to prevent cracking and damage from occurring to the expensive brass components that make up your backflow preventer. If your sprinkler system is not shut down correctly in the fall and you notice freezing and damage, you can still save the system once it thaws by having the sprinkler system shut down. However, before the sprinkler system is restarted in the spring, the bonnet and poppet must be replaced. The replacement parts for your bonnet and poppet kit is commonly referred to as a Febco 765 repair kit. This part can be ordered from us and is easily replaced by most anyone. Once you install your Febco 765 repair kit you can then safely restart your sprinkler system and enjoy the benefits it provides of a well irrigated lawn with the convenience of an automated sprinkler system.
To learn how easy it is to install your Febco 765 repair kit, click here for a printable page or here for a downloadable pdf.
Learn more about Febco 765 bonnet and poppets.
Learn more about Febco 765 parts.
Replace your Febco 765 PVB bonnet and poppet using our easy to follow instructions.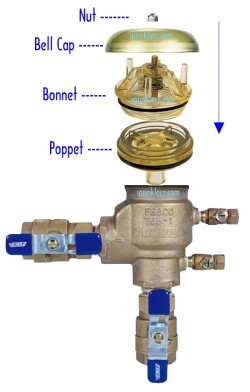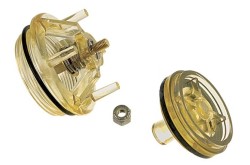 Please use our secure online order forms to place your order for Febco 765 repair kits or any of our sprinkler supply repair parts or feel free to call us Monday - Friday between 9:00am and 6:00pm at 248-473-7485 or 734-844-2494 to speak with one of our experienced sprinkler repair parts specialists.
We know sprinklers and will offer all of our experience to help assure that you purchase the right repair parts to keep your lawn sprinkler system functioning properly.
We ship across the entire United States like Arizona, California, Florida, Georgia, Illinois, Louisiana, Michigan, Mississippi, New Mexico, Ohio and Texas and we offer fast turn around on all online orders or phone orders. We will generally use USPS as our shipping service to prevent delay of your sprinkler parts delivery to even the remotest of United States delivery areas. We have successfully served our customers needs for high quality sprinkler repair parts since 1993 and have intimate first-hand knowledge of all sprinkler parts and their uses within your lawn irrigation system.